Yay, it's finally October, one of my favorite months of the year!  Today's post has LOTS of bewitching ideas to get you in the mood for Halloween + a giveaway from the folks at Martha Stewart!  First up, I'm sharing my Wickedly Sweet Bubbly Cauldron Treats.  Don't they just sound fun?  Well trust me your little goblins are going to love this tasty version of the witches bubbly brew.
October is one of those months were our dinners are a little more creative.  It's just too much fun not to serve ghoulish dishes like our mummy pizzas, spider crackers and now these bubbly cauldron treats.  The best part is these are so easy to make and aren't just for special occasions, in fact they are a great weeknight treat!
I was trying to come up with an idea to use these mini cauldrons I picked up at Michael's and then it hit me, why not make them into dessert vessels. As a kid I loved this dessert you always found at family reunions or church functions, Pistachio Pineapple Pudding, and I knew this fluffy green stuff would be perfect for my bubbly cauldron treats.
Whip up a batch of the fluffy green dessert (recipe below), spoon it into your mini cauldrons, chill and then enjoy your wickedly sweet bubbly cauldron treats!



Yield: 8-10
Wickedly Sweet Bubbly Cauldron Treats
This light and fluffy Pistachio Pineapple Pudding dessert is the perfect Halloween treat for your little witches.

Prep Time 10 minutes

Total Time 10 minutes
Ingredients
1 (3 1/2 ounce) package instant pistachio pudding mix
1 (12 ounce) containers Cool Whip
1 (20 ounce) can crushed pineapple
1 cup chopped pistachios or walnuts
1 bag mini marshmallows
Instructions
Mix pudding package with cool whip and pineapple
Fold in marshmallows, combine well
Refrigerate for at least 2 hours
Add chopped pistachios right before serving

Now that you've have a fun witch treat to serve your little goblins make sure you visit my Blog Hop friends to see their witch themed craft ideas, printables and recipes.  Here is a little peek at what they've whipped up for you this month.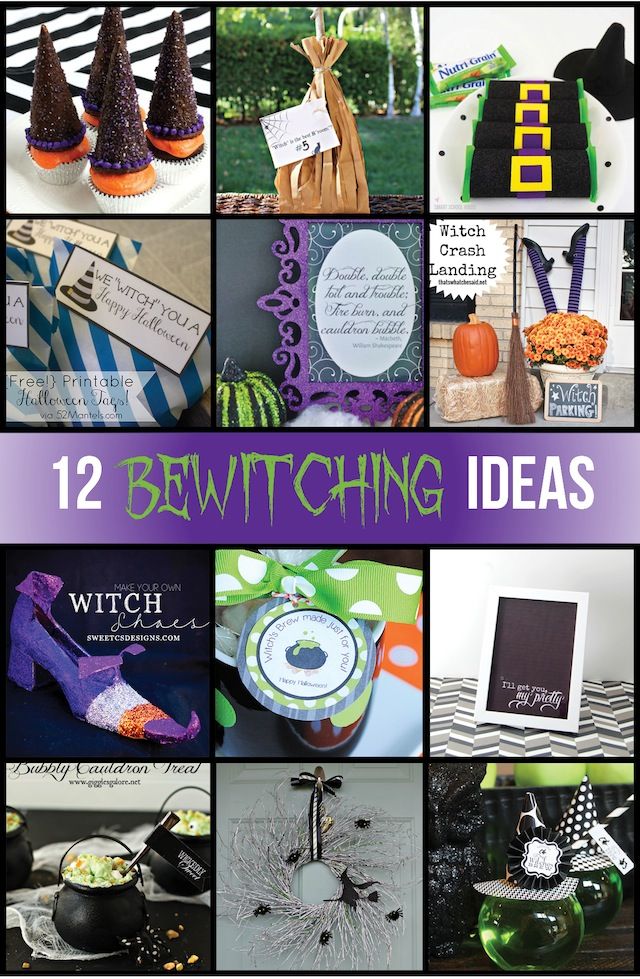 Finally, I've saved the best part for last…the folks at Martha Stewart wanted to get in on the fun Halloween action and share their most recent Halloween magazine, a pumpkin witch's cauldron tutorial AND….an AWESOME giveaway of Martha Stewart Halloween crafts!
MARTHA STEWART PUMPKIN CAULDRON TUTORIAL
• large pumpkin
• keyhole saw or serrated knife
• fleshing tool
• drill
• sisal rope
• 3 eyebolts, with washers and nuts
• 3 long, straight branches
• 20-gauge wire
• S hook
• outdoor stake light (with yellow or orange bulb)
• twigs
• sturdy glass bowl
• dry ice and protective gloves
Cut top off pumpkin, using saw.
Hollow out pumpkin with fleshing tool.
Drill 3 equidistant holes about 2 inches below opening.
Cut 3 lengths of rope to hang pumpkin.
Tie 1 end of each rope to an eyebolt.
Push eyebolts through holes in pumpkin; secure with washers and nuts.
Prop branches in a tepee shape, and secure at top with wire; thread wire inside top to hang S hook.
Hide visible wire with rope. Knot pumpkin's rope ends together, and hang from S hook.
For "fire": Insert stake light into the ground, and cover it with twigs. For "mist": Put glass bowl with dry ice inside pumpkin; add some water. (Wear gloves when handling dry ice.)
Sources:
Keyhole saw,from $5.50; natural sisal rope (65495), 3/8 inches by 50 feet, $9; eyebolt with nut, 1/4 by 4 inches, $0.50; cut washer, 1/4 inches, $2.50 for 25, homedepot.com. fleshing tool, $4.50, ceramicsupplyinc.com. Panacea 20-gauge paddle wire in Green, $3.50, createforless.com. Thomas and Betts stake light, $8, amazon.com. dry ice, dryicedirectory.com for locations.
Now we're giving away some AWESOME BOO-TIFUL Martha Stewart Halloween goodies! Enter to win all the goodies in the image below simply by following these amazing blogs below via Pinterest. Enter in Rafflecopter to win!
a Rafflecopter giveaway