Happy Spring!  Today is the first day of Spring and I had the urge to be crafty today…so I made some Spring 2×4 decorations to liven things up around here.
I was inspired by Craft Goodies 2×4 chick and rabbit, which you can find here.  I made my own version and I thought the bunny and chick needed a friend so I decided to make a fluffly lamb to keep them company.
I started by cutting my 2×4's, I made 2-5″ and 1-7″.  Then I sketched out the bunnies ears and nose and had my hubby cut them out with the jigsaw.  I painted everything and once it was dry started to embellish them.
I bought a package of yellow feathers at Hobby Lobby and cut them in half and started to hot glue them all over the 2×4.

I used a stiff sheet of felt to cut out the feet and beak and hot glued them on.  Finally I added googly eyes.  Cute little chickie!
I painted a black face on the lamb and used cotton balls to make him fluffy.
He needed some ears so I used black fabric and some pink polka-dot fabric and hot glued them to sides. (note to self: do this before putting all the cotton balls on)  I painted a pink nose and added googly eyes.  I still can't decide if he needs a mouth or not, what do you think?
Finally I fixed up the rabbit.  I started by adding the pink polka-dot fabric to the ears and then worked on the face.  I used pink chalk to blush the cheeks.  I needed whiskers and didn't have anything so I cut a few pieces off my broom to make the whiskers, attached them to the nose and hot glued to it's face.  Some off set googly eyes and a few final touches and she's ready!
I love this cute Spring trio!
The craft bug has returned and I have several other fun Spring projects that I plan to finish up this week (fingers crossed I can get to them all!)
I am linking up with these fun parties: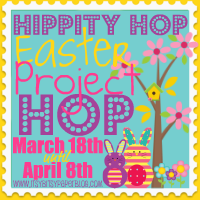 I'm also sharing this craft project on these fab sites!
Title:
Spring Chick, Lamb & Bunny 2×4's
Last Updated:
September 3, 2013