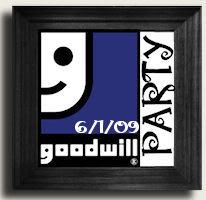 Sarah @ Thrifty Decor Chick is hosting a Goodwill Party, so much fun. I just had to participate. I have been haunting Goodwill stores and garage sales lately to make my beloved "Dress Up" suitcases, which I also talked about here. While these aren't necessarily "decor" for your home they make a lovely addition to any little girls playroom or room.
I don't have a before picture, but just imagine an old fashioned, hard plastic suitcase that your Grandma used to travel with. Just like this…

A little spray paint, creative details, ribbon and viola a beautiful suitcase. Give your little princess the gift of make-believe with this charming carrying case–perfect for storing dress up clothes and accessories.
Please visit me at Giggles Galore n More for other designs and details! Thanks for stopping by and don't forget to head over to the Goodwill Party for more ideas and inspiration!