Hi everyone, my name is Julie from Sprinkled with Paper. I'm super excited to be collaborating with Giggles Galore again! I previously shared how I boo'ed our friends and family with this Halloween Boo S'mores Kit. Today, I'm sharing a fun set of Thanksgiving conversation cards for kids. They're a great way for the kids to pass the time and re-connect with family and friends on Thanksgiving.
Thanksgiving is definitely one of my favorite holidays. It's a day where we can all enjoy family and (hopefully) relax. I just love watching the Macy's day parade in the morning and eating delicious food in the afternoon.
By the time the afternoon rolls around, the kids have become a little impatient waiting all day for dinner. Can you blame them!? I can remember as a kid smelling yummy food coming from the kitchen all day but constantly being told: "it's not time yet". After getting dressed up, traveling to see family, and passing by the pies and smelling yummy food all day, it would probably drive anyone mad!
I thought that a fun way for the kids to pass the time would be to share Thanksgiving trivia and memories. So, I've created a free printable with interesting, kid-friendly Thanksgiving facts and questions to break the ice and get the kids to share a little about themselves.
And to sprinkle in a little cuteness, we'll keep the cards in pilgrim hats that will match your perfectly set and styled tables (anyone for buffalo checked print this Thanksgiving?).
To get started, you'll need the following supplies:
Supplies:
Printable PDF Thanksgiving conversation cards found here.
Printable PDF Pilgrim hat accessories found here.
Black paper cups
Scissors
Hot glue & gun
Instructions:
Download and print the Thanksgiving conversation cards and Pilgrim cup accessories PDF files. For best results print both PDF files on bright white card stock.

Assemble the Pilgrim hat cup:

Cut out Pilgrim hat accessories (a yellow strip for the band and a black circle for the brim)
Run a bead of glue along the bottom of the cup to hot glue the black brim
Attach a yellow strip around the base of the black cup by gluing both ends together in the back.

Cut out conversation cards and place in decorative Pilgrim hat cup.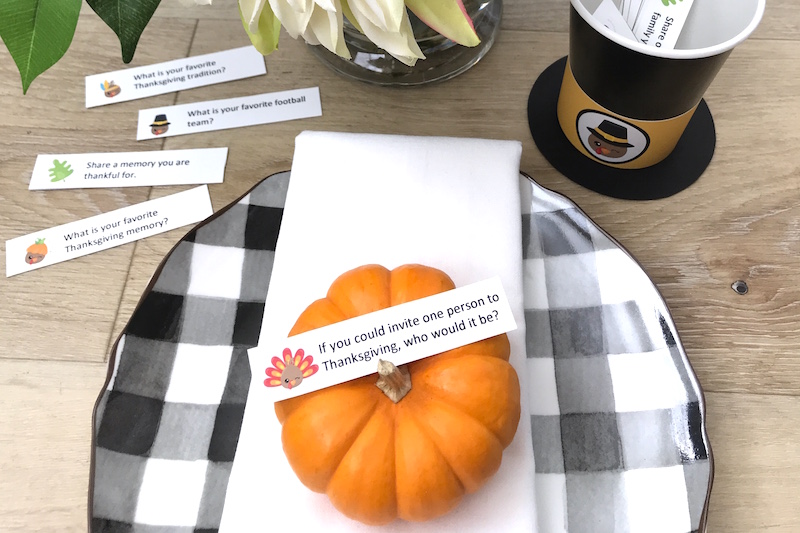 The whole process is rather simple, and only takes a few minutes to complete! You'll have all the kids giggling and entertained in no time!
Happy Thanksgiving everyone!!
Title:
Free Printable Thanksgiving Conversation Cards for Kids
Mentions:
Contributors, Dinner Conversation Cards, Free Download, Free Printable, Free Printables, Giggles Galore, Kids Activity, Kids Thanksgiving Table, Thanksgiving
Keywords:
Thanksgiving Conversation Cards
Last Updated:
November 16, 2018